Fife Dog Training, Dog Training Classes, Puppy Training Fife, Dog Obedience Classes North Queensferry, Rosyth, Dunfermline, Inverkeithing, Fife
Our Chosen Charity
As a not-for-profit organisation, any funds we receive from our training classes (minus the cost of the hall) are donated to charity. At the beginning of each year we choose a charity which we believe is worthy of receiving our donation.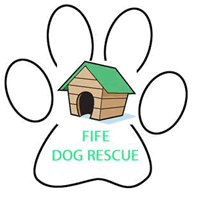 This year, we are delighted to announce that we will donated to Fife Dog Rescue.
Fife Dog Rescue was established in November 2013 to help dogs who are in need of a new forever home. Run by a dedicated committee who have years of experience in training and the rehoming of dogs. Each of their committee members is skilled in different aspects of dog rescue and collectively they have a very informed and knowledgeable team.
For more information on Fife Dog Rescue, please visit their Facebook page.